April 2019
Welcome to the April 2019 newsletter.
This issue covers the April 12 Kotlin DSL Webinar, Gradle 5.3.1 release, the new Gradle Logo, a new, faster CDN for China, the Gradle Event Tour, and some new content from the Gradle team.
New Gradle Content
From the community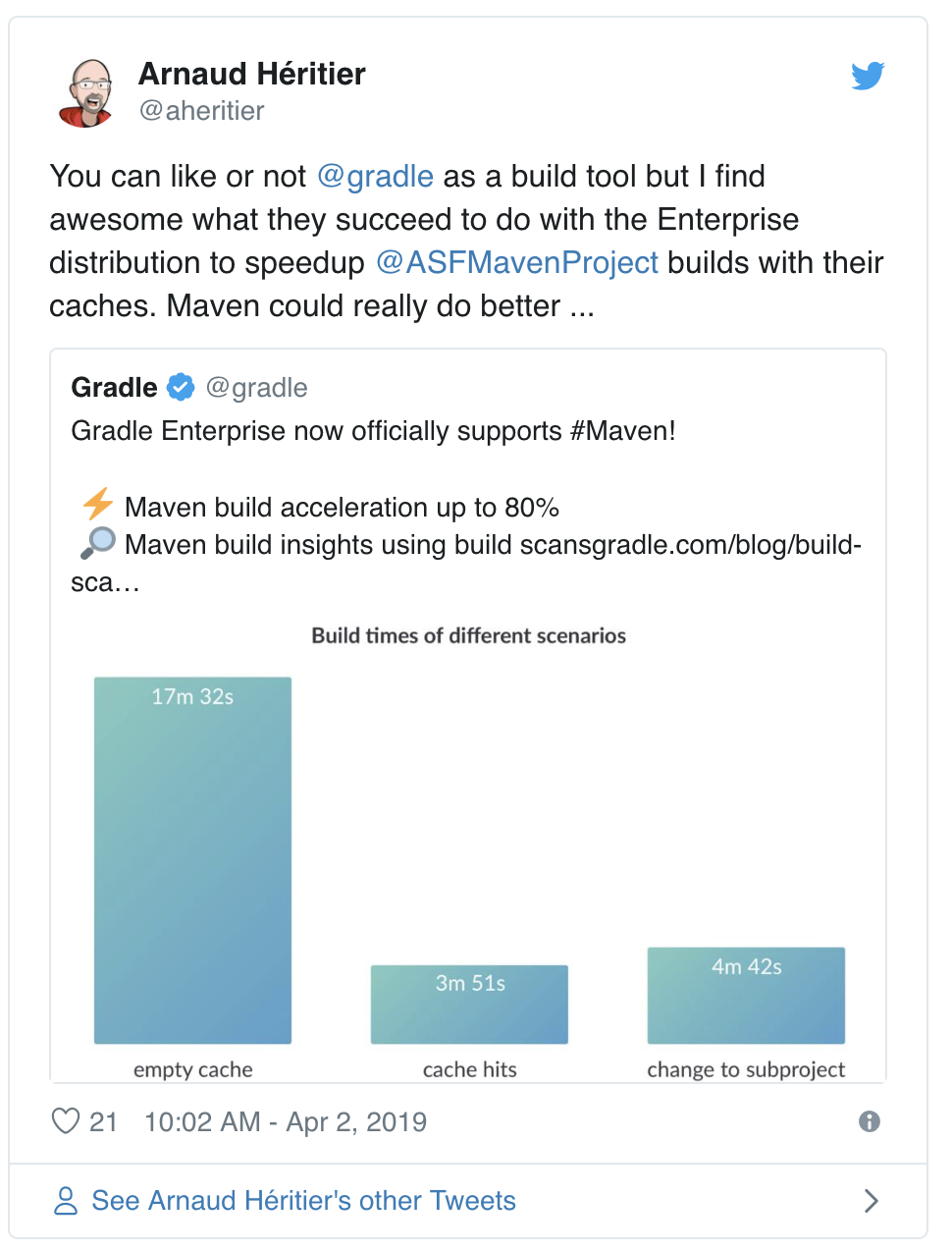 Releases
If you have a talk or blog post you'd like us to share in the next issue, use #gradle on Twitter or send us an email with the details to newsletter@gradle.com.
Gradle Jenkins Plugin surpasses Maven plugin installs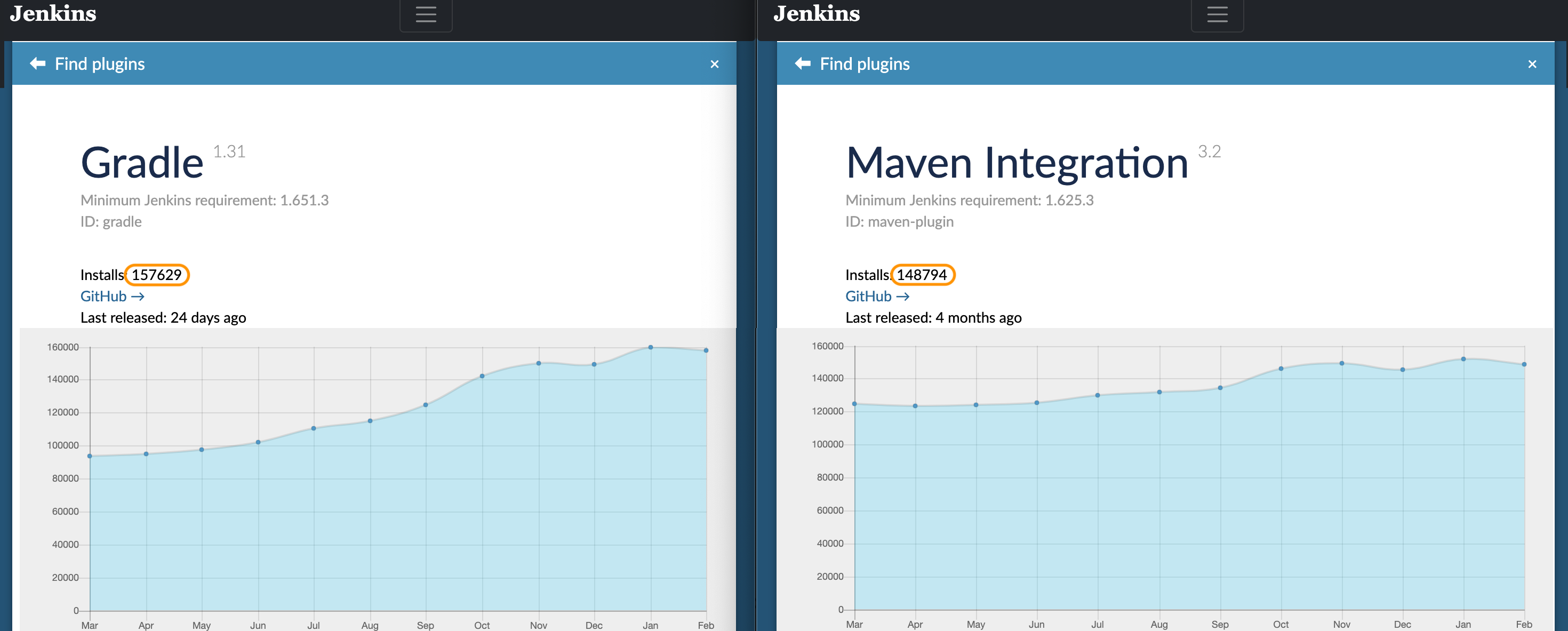 The Gradle Jenkins Plugin has exceeded 157,000 installs surpassing the popular Maven Integration Plugin which has just over 148,000 installs. Like any download statistic, this should be taken with a grain of salt, but congrats to both plugins for being in the top 75 most installed plugins on servers that authorize jenkins.io to collect usage statistics.
Faster CDN for China
Gradle users in China, we know that download speeds for Gradle distributions have been painfully slow. Now, you should notice much faster download speeds with our new CDN. It should start working right away. 🎉
If you are still experiencing slow Gradle distribution downloads in China, or have questions about Gradle in general, please raise an issue on the Gradle forums.
New Gradle Logo
You may have noticed our new logo in this newsletter and other recently published Gradle materials. If you need to update your blog posts, conference talks, or Gradle plugin website, you can download the new logos for Gradle Build Tool, Gradle Enterprise, and the Gradle Elephant at gradle.com/brand.
To update your laptop stickers, find us at an upcoming event.
Gradle 5.3.1 Release
In the last newsletter, we talked about the 5.3 release candidate. Since then, we released 5.3 and 5.3.1 which includes some important fixes notably a fix for multi-project builds.
The top features of the Gradle 5.3 release are:
As with all releases, please upgrade to the newest version.
./gradlew wrapper –gradle-version=5.3.1
Gradle Event Tour
As you may have noticed from our growing Upcoming Events sections in the last few newsletters, Gradle is doing a lot more local events including some stops of the NoFluffJustStuff(NFJS) and CloudBees Days series.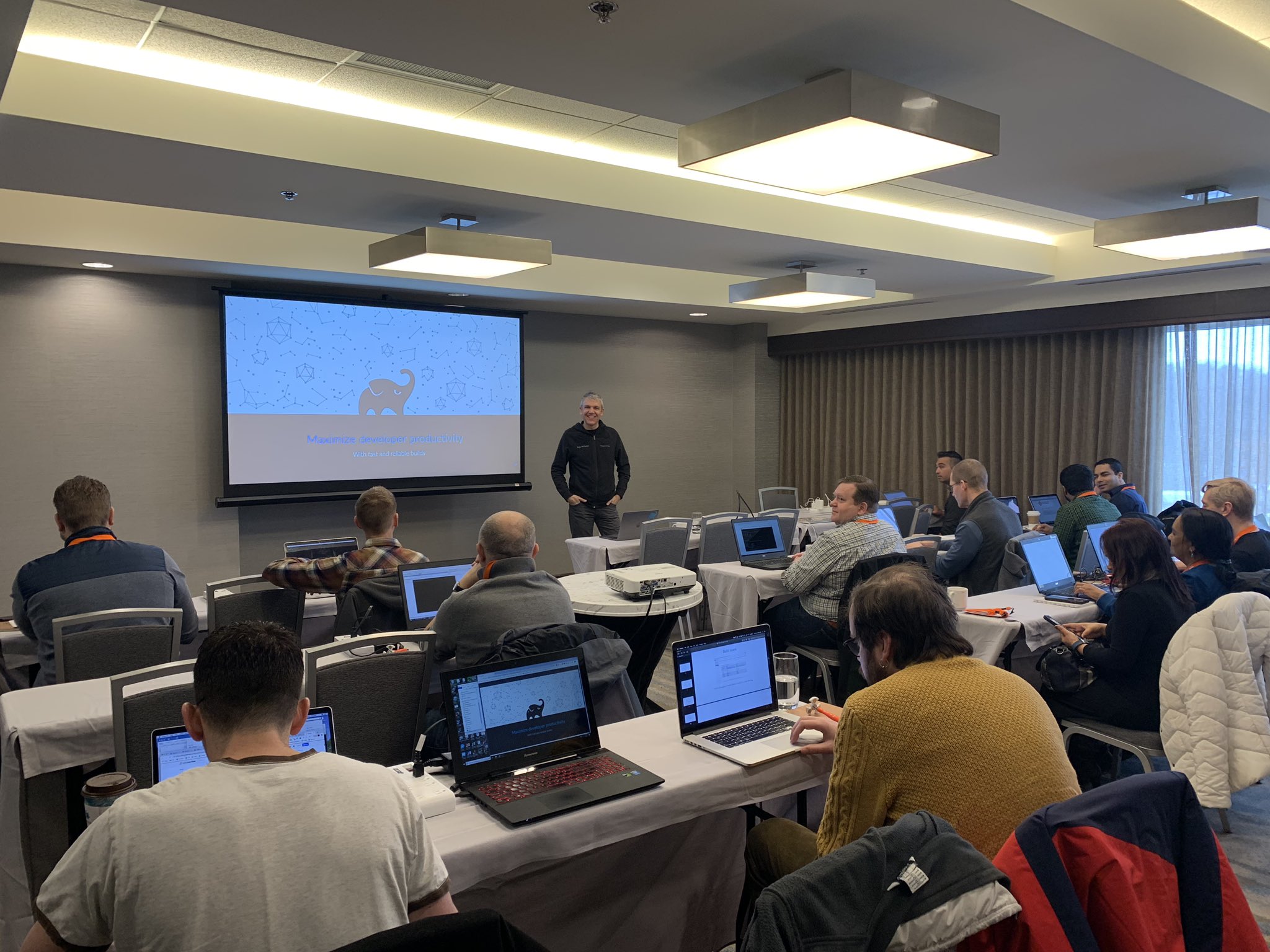 At these events, we will deliver an interactive workshop Maximize Developer Productivity with Fast and Reliable Gradle and Maven Builds where you will solve common build process and developer productivity problems on both Gradle and Apache Maven builds in a Gradle Enterprise training environment.
If you are in one of the cities listed below, we may reach out to you for special discounted or free event tickets so please add us to your inbox contacts to avoid those messages going to the spam folder.
If not, stay tuned to find out about more events near you!
Upcoming Events
Job opportunities
Gradle Inc. continues to grow. Will you help us shape the future of software automation? We're currently looking for:
The details of these and other open positions available at gradle.com/careers.
---
If you have some news you'd like us to share in the next issue, use #gradle on Twitter or send us an email with the details to newsletter@gradle.com.
Until next time!
—The Gradle Build Tool Team